(Photo above taken by Phyllis Hollifield: A bike rack in Northern Ohio.)
Dr. Jane Graebner and her team at Delaware's Foot and Ankle Wellness Center recently held a photography competition for local artists, culminating with an afternoon Open House and gallery showing for the public, artists, friends, & family.
I (Mark Bingaman from the Mid-Ohio Breakfast Club) stopped by to check out the art and smile for a few minutes with some of the nicest folks in Delaware. (OK, there were great refreshments, also).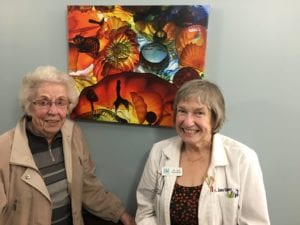 Artist Eileen Fogel (L) with Dr. Jane Graebner: Photo taken at the Franklin Park Conservatory during a visit there with Eileen's granddaughter.
The bike rack photo at the top of this page was taken by Phyllis Hollifield, and I selected it as a favorite during my visit. I think I was a bit drawn to it due to its stark black and white, and modern "urban" feel.
Here's another of Hollifield's works, this one a frozen bubble that she froze herself, just for this photo.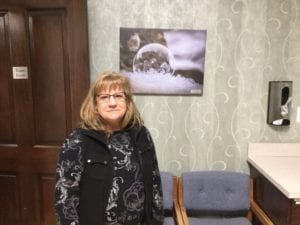 Phyllis Hollifield: Frozen Bubble
Eleven local photographers won prizes and their works are now on permanent display throughout the hallways and rooms of The Foot and Ankle Wellness Center. Check out the fantastic prints the next time you visit!
"We hope that our patients will enjoy the photos in our treatment rooms to help ease the reason for being here, and maybe inspire them to see the beauty that is all around us," said the practice's Jody Kelleher.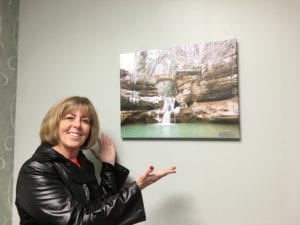 Connie Isler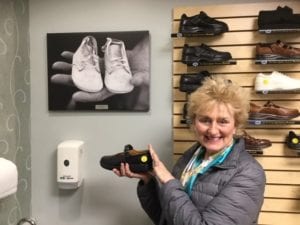 Amy Boyle: A pair of her own brother's baby shoes, held in his now-grown hand.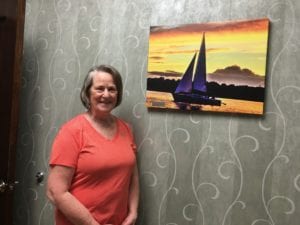 Bernie Marshall: Photo of a fellow sailor taken from Bernie's own boat.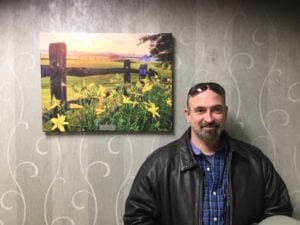 Daniel Carper - A fence row along his property just after a late day rain.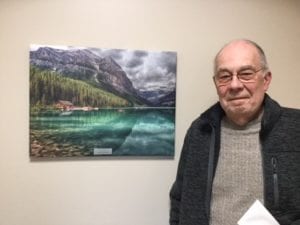 George Fleshman - Photo of Lake Louise Canada
Special thanks to Waterford Signs in Delaware for their quick and excellent work on the artist nameplates now attached to each work!