Congratulations to the OSU Swim Team - Best. NCAA Championships. Ever!
Ohio State solidly among nation's Top 10 – 7th – and with a school record for points and All-Americans
2021 NCAA Championships – Final Team Standings
(Top 10)
Virginia – 491
North Carolina State – 354
Texas – 344.5
California – 290
Alabama – 266
Michigan – 224.5
Ohio State – 215.5
Georgia – 181
Stanford – 159
Tennessee – 153
2021 Ohio State All-Americans
Hannah Bach – 400 Medley Relay, *100 Breaststroke, 200 Medley Relay
Emily Crane – 400 Medley Relay, *100 Backstroke, 200 Medley Relay
Mackenzie Crawford – *1-Meter 
Amy Fulmer –800 Free Relay, 200 Free Relay, 400 Free Relay
Taylor Petrak – *50 Free, 200 Free Relay, 400 Medley Relay, 200 Medley Relay, 400 Free Relay
Freya Rayner – 200 Free Relay, 400 Free Relay 
Kristen Romano – 200 Individual Medley, 800 Free Relay, *400 IM
Sally Tafuto – 500 Free, 800 Free Relay
Katie Trace – 800 Free Relay, 400 IM
Katherine Zenick – 200 Free Relay, 400 Medley Relay, 200 Medley Relay, 400 Free Relay
*Honorable mention All-American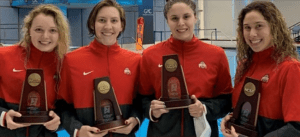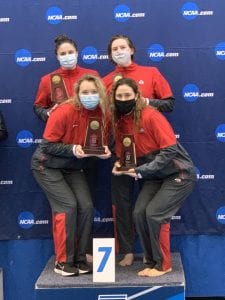 COLUMBUS, Ohio – Best. NCAA Championships. Ever! That is what the Ohio State women's swimming and diving team accomplished over four days of the highest level of competition short of the U.S. Olympic Trials. When the waters had finally calmed at the Greensboro Aquatic Center in Greensboro, N.C., the Ohio State Buckeyes could take great pride in being one of the Top 10 schools nationally with the highest NCAA finish in program history – seventh – and with the most points scored, 215.5.
Ohio State qualified 15 student-athletes for this championships and before any more is written, the names of this history-making team need to be recognized and celebrated:
Seniors: Hanna Gresser, Taylor Petrak, Freya Rayner, Kristen Romano and Katie Trace;
Juniors: Emily Crane and Sally Tafuto; 
Sophomores: Hannah Bach, Mackenzie Crawford and Amy Fulmer; and
Freshmen: Maya Geringer, Janessa Mathews, Ciara McGing, Catherine Russo and Katherine Zenick.
What this group has done this week is reinforce the foundation of a fast rising program nationally that has won consecutive Big Ten Conference championships under director of swimming and diving Bill Dorenkott, diving coach Justin Sochor and terrific assistant coaches. They did it with talent – all five relays placed in the Top 8 nationally and five individuals had Top 10 finishes – and they did it in numbers: 10 different Buckeyes earned a total of 28 All-America honors with both totals all-time school records. 
"I am so happy for the swimmers and divers in this program, those that are here at NCAAs and those back home who are striving to make NCAAs and more," Dorenkott said. "They are the reason we have tremendous confidence as a program and why so much excitement and enthusiasm surrounds us.
"We have a culture driven by a team full of wonderful individuals who are superb students and athletes. I could not be more proud right now, nor more optimistic about the future success of this program."  
 Ohio State scored in only two events on Saturday, but the team had scored so consistently over the course of the meet that it stayed solidly in the Top 10. The evening's highlights included:
Twelve big points from a pair of swimmers in the 1,650 freestyle: Sally Tafuto was ninth in 16:07.36 and the freshman Maya Geringer scored her first NCAA points by placing 14th in 16:11.97; and 
A fifth consecutive Top 8 finish for Ohio State's relays with the 400 freestyle relay team of Taylor Petrak, Amy Fulmer, Freya Rayner and Katherine Zenick finishing sixth in 3:13.06.
Also competing in individual events Saturday evening: Kristen Romano was 25th in the 200 backstroke in 1:54.82; Katherine Zenick (48.78), Amy Fulmer (48.98) and Taylor Petrak (49.01) were 20th, 30th and 32nd, respectively, in the 100 freestyle; Katie Trace was 25th in the 200 butterfly in 1:56.59; and Ciara McGing was 17th on platform with 259.10 points. 
Ohio State's previous best finish at an NCAA Championships was 10th in 1983 while the previous high points total was 123 scored in 2018.