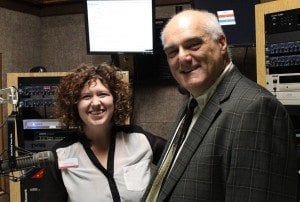 Hosts George Needham and Nicole Fowles, DCDL's director and communications manager, respectively, provide a half-hour update of things happening in the Library world and around the Delaware County community.
George and Nicole keep things current, relating hot topics and trends of today with materials and resources available at the Library. Listen to find your next best read or what Library program to attend.
The program can be listened to live on 1270 AM, 96.7 FM or streamed online by just clicking the "Listen Live" button. When you click "Listen Live" you can also listen to past broadcasts of the program. In the "Menu" under "Streams" click the third button with a microphone for "On-Demand Streaming" and scroll down to find "Off the Shelf." Lastly, the show is re-broadcast on Sunday mornings at 9 a.m. on Local 98.5 WINF.
web site http://www.delawarelibrary.org/.