Welcome to Horsing Around
air date 9-4-2021
brought to you by...OHHA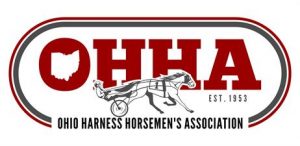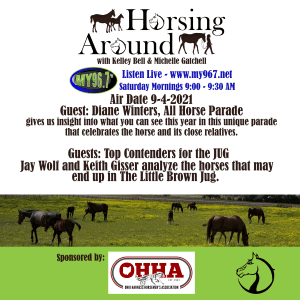 GUEST : Diane Winters the Chair of the All Horse Parade, Shares what it takes to put on this unique parade that celebrates the horse and its close relatives. We will be broadcasting the entire parade right here on the site, and on the radio. So if you are not in Delaware Ohio you will be able to see this wonderful event, September 12 at 3:00 PM EST. 
GUESTs : Keith Gisser, Little Brown Jug Radio Network and Jay Wulf from the Little Brown Jug share their top five picks for contenders of the Little Brown Jug race. Hear which horses look like they have a shot for the title.
GUEST: Then Roger Huston, the VOICE of the Little Brown Jug and Brand Ambassador for the Ohio Harness Horsemen Association gives us a wrap up of the month of August and what driver, trainers and owners are winning around the state.