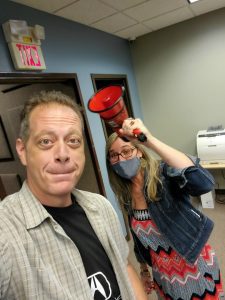 Mark Bingaman
Thirty-plus years in Central Ohio radio. My, how time flies.
On two separate occasions, from 1997 to 2000 – and again from 2003 through 2006 – Mark served as the full-time, weekday, afternoon drive host on Sunny 95 in Columbus.
You may recall him by his on-air pseudonym of "Geronimo" in the late '80's on the legendary 92X and again from 1990 to 1993 on the former HOT 105, WWHT.
Mark has spent the last few years working consulting small businesses in social media and internet marketing.
But, radio called and he's back as host of the Mid-Ohio Breakfast Club, super-serving our listeners across Delaware and Union counties, the Northern Franklin county suburbs, and into Knox, Marion, and Morrow counties.
Mark's Five Favorite Spots in Delaware County
Shale Hollow

Just off Route 23 in Lewis Center, this is such a sweet spot among the treasures of Delaware County's Preservation Parks system.

I love the seclusion, and the deep, dark shade of the trees as they mingle with the interesting geological traits of the park.

Downtown Delaware:

An absolute model for how cities the size of Delaware can work to regrow their downtown areas into thriving destination spots. How can you not enjoy the great vibe and energy constantly present in this swath of the city!

Alum Creek Area:

Gorgeous, peaceful, semi-secluded. Water. Love it.

Sawmill Parkway

Particularly the stretch from Olentangy Liberty High School to Route 42 in Delaware. I absolutely get a kick out of the easy, country driving. I'm a confused as to why it isn't more heavily traveled.

Riverside Drive

Every chance I get, I go out of my way to travel Riverside Drive between 42 and Dublin. A cruise along this scenic river route brightens my spirits, be it in winter, spring, summer, or fall.
Mark's Five Favorite Artists On WDLR
The Eagles: I can't believe Glenn Frey is gone.
Prince: I can't believe Prince is gone.
John Mellencamp: An incredible songwriter and artist.
Joan Osborne: An amazing vocalist and blues-rocker, it's ironic that her Billboard Number One hit "One of Us (What if God Was)," sounds the LEAST like the rest of her work. Osborne is severely under-rated and appreciated.
Jamey Johnson: A present-day, old-school country crooner. This dude is Merle Haggard, Hank Jr., and Waylon Jennings rolled into one. His 2008 Number One county hit "In Living Color" is a phenomenal tune.